79% of marketing leads never convert into sales. Lack of lead nurturing is the common cause of this poor performance (Source: MarketingSherpa)
Companies that automate lead management see a 10% or greater increase in revenue in 6-9 months (Source: Gartner Research)
If you're not using marketing automation then you're behind. It is that simple. Any business that operates online needs a marketing automation system. Here's why:
Lead nurturing through lead scoring
One of the main reasons for using a marketing automation system is to reap the benefits of lead scoring. Lead scoring allows you to allocate points to your most engaged leads based on actions they take both on and off your website. This could be through clicking a link in an email or visiting an important page on your website. You can also reduce a contacts lead score by deducting points based on negative actions or where the contact doesn't fit your target market. You can then use a contacts lead score to generate content specific to that individual.
Segmenting
Marketing automation allows you to easily segment emails by a number of different criteria. For example, you may wish to send an email to contacts within a certain sector. In the past, this would mean ploughing through a spreadsheet and identifying the relevant fields. Not in a marketing automation system. By selecting the relevant field in your marketing automation system e.g. Industry = Manufacturing, you can send a message specific to that industry, without having to lift fields from your data.
A/B Testing
Marketing automation allows you to test a number of different elements, so that you can identify what is performing best. This may be an email subject line or email content. By using A/B testing you can make easy decisions based on detailed reporting and stats provided by your marketing automation system. Here's an example for subject lines: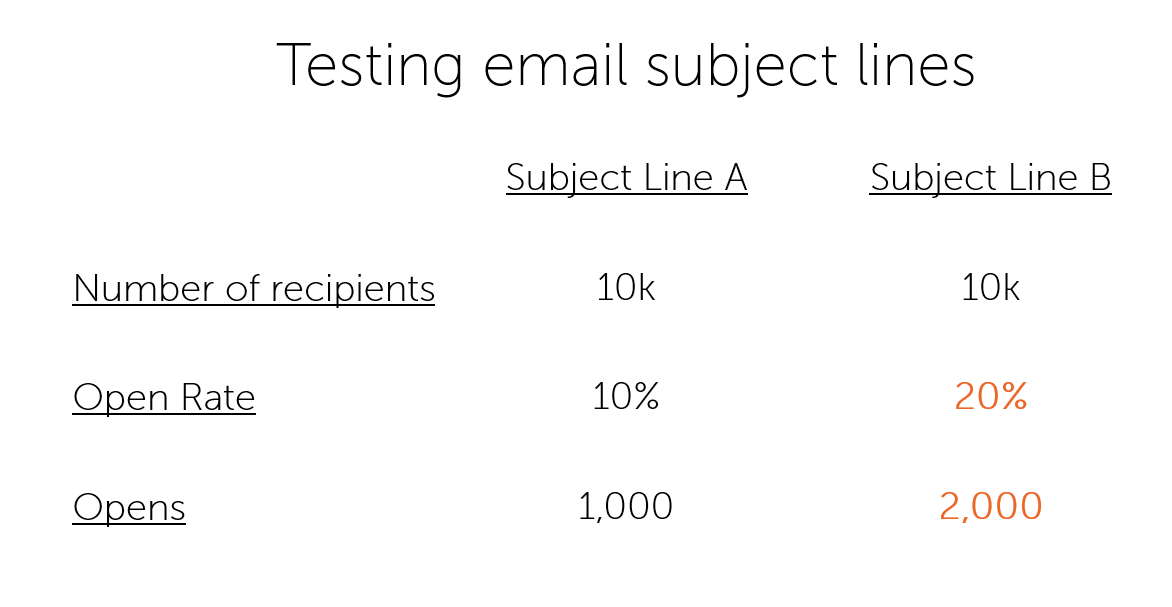 Here you can see that Subject Line B performed best. Now that you know this works, you can easily replicate the success across future emails.
4. Triggers and Workflows
Triggers and workflows allow you to set up automated processes and activities whereby when a contact interacts (or doesn't!) with your website and/or marketing efforts, it will 'trigger' an action (workflow). For example, you send out an email to a list of contacts. Based on the actions taken by the recipients you can enforce a follow up action. If a contact visits a certain page on your website, you can send them a specific follow-up email. If a visitor registers an interest in your product after filling in a form, you can add them to a designated list of registered contacts. The list is almost endless and there is not an excel spreadsheet in sight.
5. Links with your CRM
Marketing automation systems link seamlessly with CRM systems. The two will constantly talk to each other, bringing your marketing and sales team closer together.
You can set up your marketing automation system to ping emails to your sales team when a lead performs a particular action. Great!
6. Time and money saver
If you haven't cottoned on by now, marketing automation saves you time and money. Less overheads, less email preparation, less time spent reporting on stats. Whilst the initial setup time and cost of a marketing automation system should not be overlooked, the overall time spent performing tasks in the long-term is dramatically reduced.
7. It's working whilst your sleeping
Your marketing should never stop! And with marketing automation it never will. As you're sleeping, or doing other things, your marketing automation machine is going to work. Emails going out, social media updates being posted, all whilst you're sitting on your sun lounger in the Bahamas!
8. Multi-touch attribution
One of the nifty things about marketing automation is it tells you the life story of each of your leads. Every single action they've performed on your site is documented, from web pages visited to forms filled out. This allows you to build a picture of what it takes to take a contact from a lead to a customer.

9. Campaign integration
The ability to integrate all of your marketing efforts into one place is one of the big appeals of marketing automation. When you run a specific campaign, it is unlikely to be centred around one single marketing channel. With marketing automation, you can integrate all of your channels into one single campaign, allowing you to easily identify its overall effectiveness.
10. Increases revenue
The main reason to use marketing automation? It will increase your revenue!
At The Marketing Eye, we are used to using a number of different marketing automation systems, from Constant Contact to HubSpot. If you would like help choosing and setting up a marketing automation system or need help with the one you've got, please get in touch.