The SharpSpring marketing automation platform has been growing in popularity ever since it rose to prominence in the early 2010s. The platform boasts an array of features, including email marketing, a landing page builder, a CRM and chatbots to name a few. It has become a one-stop-shop for all marketing related software needs. Gone are the days where businesses need a dozen subscriptions for each marketing activity they undertake.
Despite SharpSpring's increasing number of features and updates over the years, one thing has always remained prominent: it's unwavering dedication to being an agency first platform.
What does an agency first platform mean?
Marketing automation platforms are powerful and easy-to-use, but often complex systems to master. The features are all there, but utilising them and getting the most out of them can often be a stumbling block for businesses. They often turn into virtual dust collectors for businesses without the expertise to harness their potential.
SharpSpring acknowledged this very early on and partnered with specialist marketing agencies to help support clients with marketing automation. This partnership includes allowing agencies to resell SharpSpring to customers, rather than having to go direct to SharpSpring to purchase.
SharpSpring appreciates the long-term value that specialist marketing automation agencies can provide to its clients by keeping them on track and making sure the platform is the revenue generator it's designed to be and not a cost.
Costs
Depending on the needs of your business, buying a licence direct from SharpSpring is likely to cost more than buying through an agency. Agencies are allocated licences at a reduced rate and can therefore pass on those savings to customers.
The difficulty in comparing prices between SharpSpring and agencies selling SharpSpring can be problematic, however, because agencies can set the price of how much they sell it on for.
The Marketing Eye is a Platinum Certified SharpSpring agency and offers SharpSpring at a reduced rate, while offering more in return.
SharpSpring vs. The Marketing Eye
Typically, SharpSpring charges $850 per month (£615) if you go directly to them for a plan that allows for up to 10,000 contacts.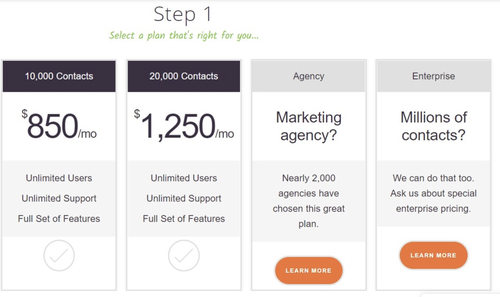 However, if you purchase the same plan through The Marketing Eye, it costs £495 per month and includes your own Account Manager to guide you through the life of your plan.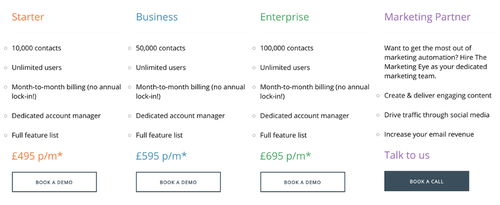 You will see further savings when you compare the difference of SharpSpring's top-level plan, which includes 20,000 contacts. This plan costs $1,250 per month (£900) through SharpSpring, but only £595 per month through The Marketing Eye, and you get 50,000 contacts included. For £695 per month, you can choose the Enterprise plan with a limit of up to 100,000 contacts, should you have a larger database, and this is still cheaper than SharpSpring.
SharpSpring doesn't mind us sharing this information and we are not in anyway undermining or looking to harm SharpSpring's sales by telling you this. In fact, it is quite the opposite, SharpSpring wants us to tell you this. SharpSpring wants businesses to partner with SharpSpring certified agencies because agencies know marketing automation and know how to keep businesses using it. Even if you were to go direct to SharpSpring, the first thing the sales team would do is look to partner you with an agency, rather than go through them. It's all about giving businesses the best chance of succeeding with marketing automation. At the end of the day, the longer you keep SharpSpring, the more money SharpSpring makes.
If you would like to know more and get a 30-day free trial of SharpSpring, head on over to our SharpSpring hub.