We've all been there.
Stakeholders agree to invest in marketing and within minutes the Head of Marketing is being asked: where are the leads?
This is a very real scenario for many marketers and their agencies. Everybody wants immediate success and patience can be in short supply when profit targets need to be met and investors want returns.
The result? Marketing activity flip-flops from one short-term initiative to another.
This is why the discussion about demand generation vs. lead generation is such an important one.
People's jobs are on the line.
Lead generation
Lead generation is often about short-term tactics to find the people that are ready to buy now.
Accepted wisdom is that only a very small proportion of an audience is ready to buy at any given point. In fact, as the diagram shows, it can be as low as 3%.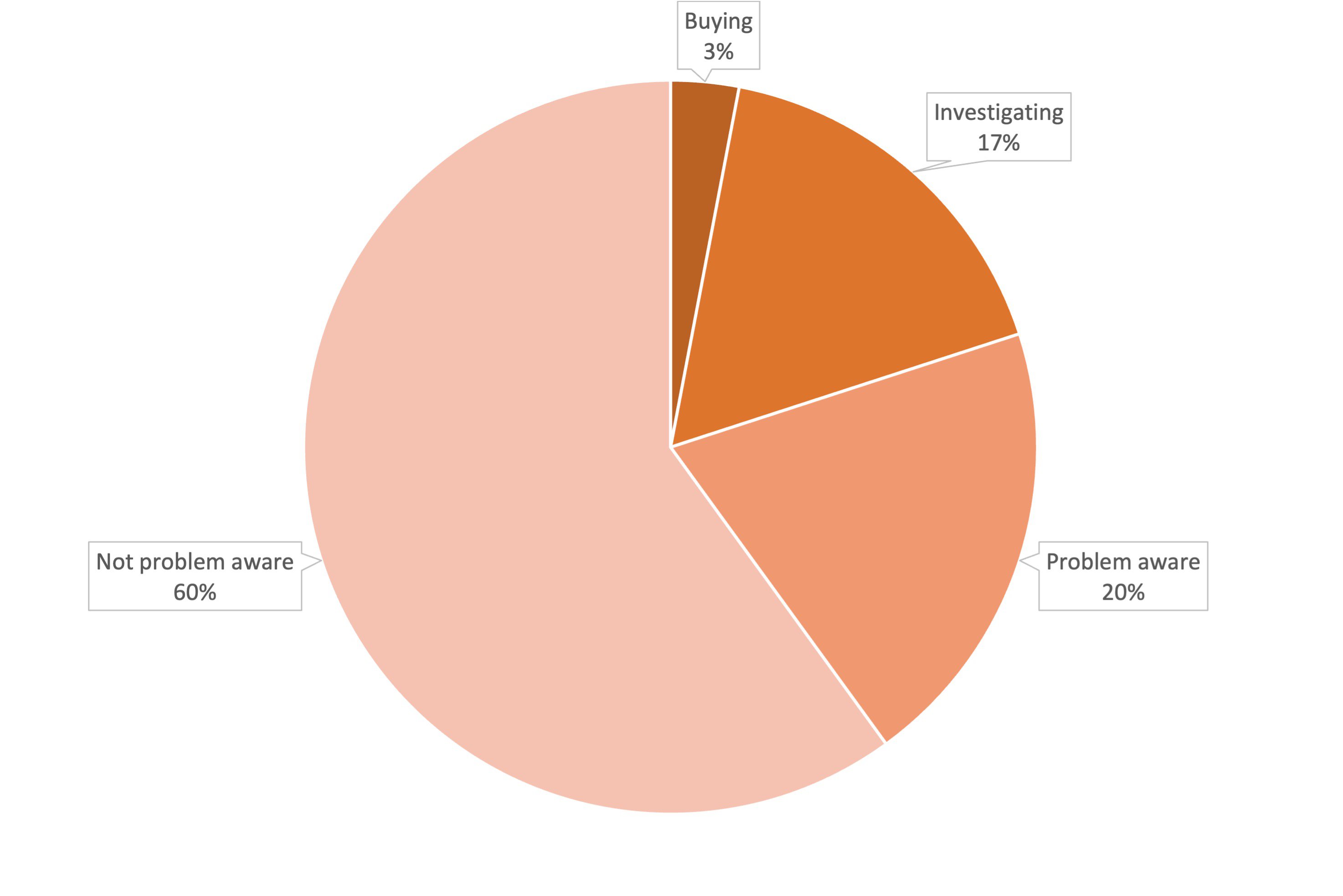 As it is very hard to tell who is ready to buy without any other contextual information, lead generation tactics often have an element of 'spray and pray' about them.
Outbound calling to cold lists
Bulk email campaigns to bought-in data
Direct mail campaigns with time limited offers.
That said, some marketing tactics can be intelligently targeted on the purchase-ready segment of an audience.
Google Ads are a good example. People are often searching online because they have a need they want to satisfy now. Positioning your business prominently in their search results is a good way of making sure you will be considered.
Lead generation campaigns aren't bad marketing, they are important revenue generators. The main goal is to convert potential customers into actual customers through the collection of contact information and other relevant data.
The one thing that everybody has to be clear on from the start, however, is that the number of leads achievable in a B2B context is likely to be quite small relative to the total addressable market. This is because the purchase-ready audience itself is very small - and even the best campaigns are only going to capture a proportion of it.
"Lead generation campaigns aren't bad marketing, they are important revenue generators."
Demand generation
Demand generation starts much further back in the buyer's journey, even before the potential prospect is aware that they have a problem or need.
In this respect, it might be said that demand generation is more strategic than lead generation in that it requires a deeper understanding of the target audience, its needs, and the journey that a buyer is likely to go on before purchase.
Mapping the journey allows the marketer to develop a content plan aligned to addressing the potential prospect's needs at each stage, and to develop a distribution strategy for the content so that it can be found by the audience in the places they are most likely to be.
A typical buyer journey might be:
1. Business as usual - "[problem] is not top of my priorities right now"
2. Catalyst to action - "hmm, do we need to address this?
3. Research - "what are our options?"
4. Project inception - "let's build a team to look at this properly"
5. Business case - "what is the business case?"
6. Executive buy-in - "can we get the board bought into the need to change?"
7. Assess solutions - "let's look at what we really need"
8. Compare vendors - "now it's time to look at the providers in detail, request proposals and short-list some of them"
9. Make decision - "we'll invite the best to pitch to us, so we can make a decision"
10. Execute decision - "good news, we have executive approval to go ahead with you. Where do we sign?"
11. Implement - "help us make this a success"
"Demand generation is more strategic than lead generation in that it requires a deeper understanding of the target audience"
Content for the early stages of engagement needs to be made freely available and placed where it can be easily found. Social media is the obvious tactic, but content syndication, blogger outreach and media placement can also feature strongly.
The further you go down the funnel, the more the content can be distributed direct to inbox. As engagement increases, the hope is that the prospect will be persuaded to part with their email address, either via a gated download, an event (e.g. a webinar) or a 1:1 interaction (e.g. at a trade show).
With an opt-in email in the database, the next pieces of content can be precisely targeted and increasingly personalised. Marketing automation can be deployed to do much of this automatically, and a whole host of other things too.
By using the automation software to monitor the engagement, the prospect's position in the funnel can be ascertained and a decision made on the right time to transfer the lead into sales. Timing is key because transferring the lead too early can make the prospect defensive and resistant to contact. Do it too late, and you might appear disinterested in their business.
A couple of points to keep in mind:
A prospect's progress through the funnel won't necessarily be linear. People vacillate and relative priorities change.
You might encounter a prospect for the first time when they are already part way through their journey.
An attractive proposition and clear user journey on the website is a must for an effective demand generation strategy. People need to be able to find the content that is relevant and interesting to them at whatever stage of their journey they are at. Accept that they will wander and cater for it.
"Long term, sustainable success for a brand can only be achieved by taking a demand generation approach"
Why go through all the pain?
The benefit of a demand generation strategy is that you open up the 97% of the market that is not at the point of making a purchase decision.
The trade-off, and let me get this out there, is that you have to wait longer to make the sale.
This, though, isn't a battle. The two strategies are interconnected and complementary. Demand generation creates awareness and interest in a brand; lead generation efforts then help identify and qualify those prospects and convert them into paying customers.
That said, long term, sustainable success for a brand can only be achieved by leading with a demand generation approach and incorporating lead generation into it. Once content funnels have been populated at scale, a regular stream of qualified leads will flow as people reach the end point of their individual journeys.
So, no more talk please of sacking the marketing director before the ink is dry on their contract. Be clear on short-term and long-term objectives and be realistic in your expectations of both.
You will save yourself a lot of flip-flopping if you do.