A few weeks ago, Facebook decided to intensify its crackdown on 'clickbait' news that appears on the social network. These clickbait articles have intriguing headlines suggesting there is more to a story than there actually is. You will often find they have headlines like "you'll never guess what happened next" which are used to drive web traffic, but often lead to a disappointing story. Facebook has built a technology that can search and pick out these headlines. Posts with flagged headlines will be automatically diminished in prominence on Facebook's newsfeed.
"We want publishers to post content that people care about, and we think people care about headlines that are much more straightforward," Adam Mosseri, Facebook's vice president for product management for the news feed, said in an interview.
This is not the first time Facebook has made attempts to crack down on clickbait. Back in 2014, the social network giant said it was moving to a feature which would move spam-like articles out of users news feeds. Facebook looked at factors like whether a user had "liked" and then "un-liked" a story. Other factors included how long a user spent reading an article, after clicking on it. Facebook deems an article that users spend more time reading as one that is more preferable. If it is an article which users find useful, Facebook will, within limits, display it higher in the newsfeed. So this latest crackdown has taken the 2014 move a step further and is looking at the articles themselves not just the user's interactions with them.
This is something that marketers need to keep in mind. They will no longer be able to use intriguing headlines risk free and must now create content that Facebook deems is wanted.
Encouraging engagement is where the focus should lie, so creating content that is informative and adds value will put you ahead of any competition that only wants to talk about itself. If the audience doesn't have to leave Facebook to view it, it is a bonus.
But, creating headlines that intrigue without appearing too vague will be the challenge. You could use "how to" articles or just something funny, but if your customers learn something or have a reason to click on and remember it then you are onto a winner. For example: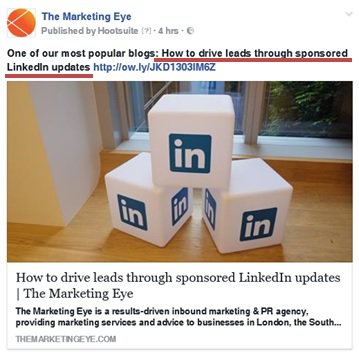 This 'How to' article has a short, straight to the point headline, which tells you what the article is going to be about without suggesting more. Then, when you get to the article, the information the headline promised is easily displayed for the reader: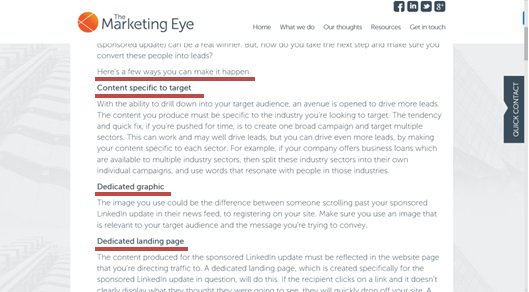 If a user was to come across this article on Facebook, believe it to be of interest and follow the link, they would find exactly what they were expecting. They are not being promised more than can be delivered. According to Facebook, this should mean the article would happily pass through the new algorithm and appear in newsfeeds quite prominently.
We understand that another update is also on its way to further reduce clickbait headlines and we'll provide a post on this as soon as we know more. In the meantime, if you would like help planning content or running your social media platforms, give us a call or contact us to find out more.