Take a look at most crowdfunding campaigns and there is likely to be a line for 'marketing' in the section on how the money is to be used. If you're lucky, it will be broken down into 'website development' and 'advertising and promotion', but that will be it.
Even Venture Capitalists, who you would expect to be much more demanding of detail when it comes to deploying their money, accept not much more than a skeleton marketing budget. The fact is, everybody seems to take on trust that there is a black hole you need to throw money towards and, if you're lucky, it will all work out alright in the end.
The crazy thing is, there is absolutely no need for this to be the case. A far more rigorous assessment process at the outset can allow any Venture Capitalist or Business Angel to determine the state of readiness of their investee business to enter a rapid growth phase and, moreover, to calculate a realistic set of expectations against which progress can be measured - from day 1, not month 12 when the first round of funding has run out.
1. The Readiness Check
At The Marketing Eye, we undertake a full readiness check for new clients so that we understand the achievability of the expectations that are going to be placed upon us. Questions include:
Can you provide data on your current sales funnel e.g website visitors to enquiries, enquiries to sales?
Have you broken your sales targets down into monthly and weekly requirements?
Do sales and marketing meetings take place around an agreed dashboard of lead and lag performance indicators?
Do you understand your average cost of acquisition, customer life time value and return on sales and marketing investment?
Can you provide a detailed description of the demographic profile of your target audience
Have you defined your key marketing messages?
Do you have processes in place to track competitors' performance?
Have you selected the marketing systems and technologies for your business e.g CRM and marketing automation?
Have you worked out your marketing operating model e.g. in-house vs. out-sourced resources
And there are many more besides to help evaluate the current strategy and tactics.
Of course, most businesses answer 'no' to a lot of the questions. This is not in itself a problem, it just serves to focus the mind on what needs to be in place before full value can be gained from an implementation programme. Skip them at your peril!
2. Predictive modelling
The next essential phase is predictive modelling, which helps everybody understand what is required to achieve the forecasts.
There is so much data around nowadays, and when you combine it with the knowledge of experienced marketers, it is possible to model the likely impact of any given set of activities on critical measures such as: website traffic, marketing qualified leads, sales qualified leads and ultimately the amount of business that gets written. By combining this data with an understanding of the revenue model, it is possible to forecast the ROI.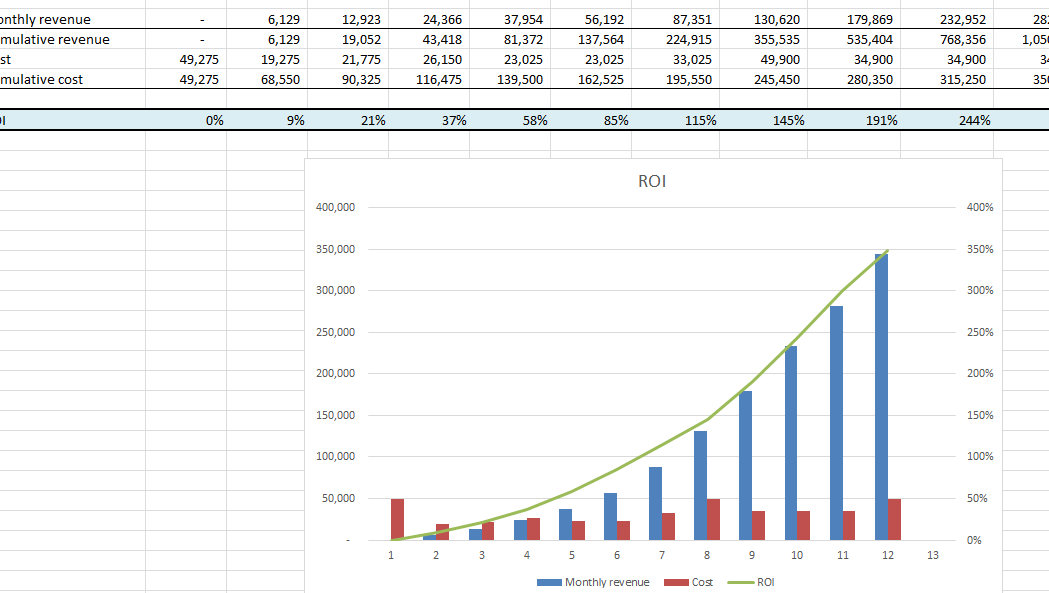 An exercise of this nature allows different scenarios to be modelled and performance to be monitored against those expectations from day 1. A continuous process of test, measure and improve can then take place to meet or exceed the benchmark.
If you are a Venture Capitalist or Business Angel and feel you are running blind when assessing how much money should be allocated to marketing, and how you are going to remain in control of it post investment, give us a call. We will be pleased to run through our readiness check and predictive modelling tools.