Many people have tried to define marketing and yet few have succeeded.
To some, of course, it is just promotion, or more narrowly still, advertising. To others it is the production of corporate gifts and brochures - the fluffy stuff that is demanded and then derided by the warriors in sales.
Fortunately, most people know it to be more complex than this - an intricate mix of creativity, psychology and persistence that is needed to a turn a universe of potential into a sufficiency of paying customers.
The Chartered Institute of Marketing defines it thus:
"The management process responsible for identifying, anticipating and satisfying customer requirements profitably."
Fair enough, what it lacks in pithiness it makes up for in breadth, and at least it has some reference to the customer and the need to make profit.
Personally, I have always enjoyed the definition given by Professor Paul Fifield, who I met a couple of years ago:
"Selling the most amount of product at the highest possible price."
There is no doubting the gritty commercialism of this definition and it is bound to find resonance with sceptical CEO's who are forever drawn to the option of putting another sales warrior on the road.
I fear, however, that marketers put themselves under too much pressure with this definition - making an implied promise that they are not in a position to keep. The definition crosses the line into sales and creates confusion between the two.
No, for me, the definition of modern marketing is short and uncomplicated: it all comes down to a simple, five letter word - trust.
The ultimate definition of marketing is:
Winning and maintaining a customer's trust
If a customer trusts a business, they will buy from it.  They will buy further products and services from it in the future and they will recommend it to friends and peers when given the opportunity to do so.
Trust is the outcome that all marketing efforts need to deliver.
And here is why.
Today, we live in an abundant society.  There is plenty of choice and infinite ways that we can gather information about those choices - instantly and when we want it.  We don't need, or respond well to, unsolicited direct marketing. Stratton, in his book, Unmarketing, introduces us to the concept of the trust gap.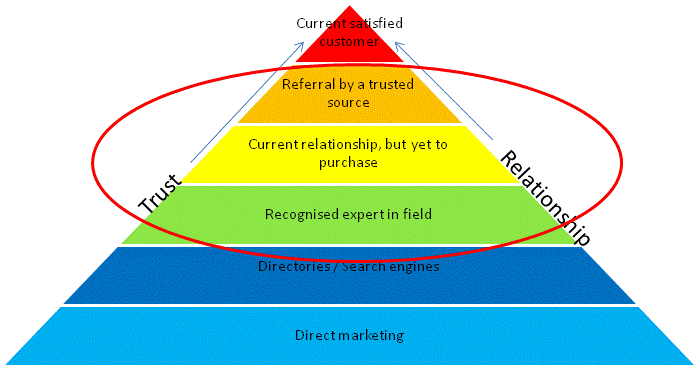 The triangle shows the influences on a buyer's purchase decision. The nearer to the base of the triangle a business is in its relationship with a customer and, therefore, the methods it must use to get attention, the more random the chances of it being successful - and the greater the likelihood of it being a price-led decision by the purchaser.
Why? Because there is no established trust and no other basis of assessment for the buyer.
A business needs awareness, understanding and trust to be successful - not just a database and a budget with which to broadcast benefits.
Sadly, for those who seek instant gratification from their marketing efforts, building understanding and trust is a long and on-going process. Modern marketing is a strategic, not tactical art.  Measuring success on how many leads a single direct mail campaign generates is guaranteed to dissatisfy and, moreover, substantially misses the point.
In an infinitely connected world, we have to engage our target audience and win it's trust with a constant programme of physical and intellectual engagement techniques that add value all of the time.  Seminars, events, blogs, networking, commentary on industry developments, PR and tip sheets are all part of the subtle process of building engagement and trust.
The goal is to become a recognised expert in the field, to start to develop relationships before the customer has bought from us and to get people talking about us when we are not there.
Once achieved, a business can all but guarantee it will be the trusted choice in the customer's mind when he or she is ready to buy - ideally the only choice - and that, surely, is the point.
Acknowledgements: