SEO is often about working out which activities will boost your sites rankings for a certain set of key phrases, to move ever closer to an average position of number one in organic search.
That's all well and good, but there's another important aspect of optimising for search which can be often overlooked: optimising the performance of your listing in it's current position. By that I mean that it can be just as effective to increase the click through rate of your result appearing in position #3 as it is to put the effort into boosting that page to position #2. Crucially, you have a more immediate control over how your result looks than you do over where it is placed, so this can be an area of quick wins.
Heavily influenced by this post recently, we've put together an interactive tool which uses information in your Google Search Console account to guide you towards which of your site's pages could benefit from some Meta Description tweaks to increase clicks. Once your done, it'll look a bit like this: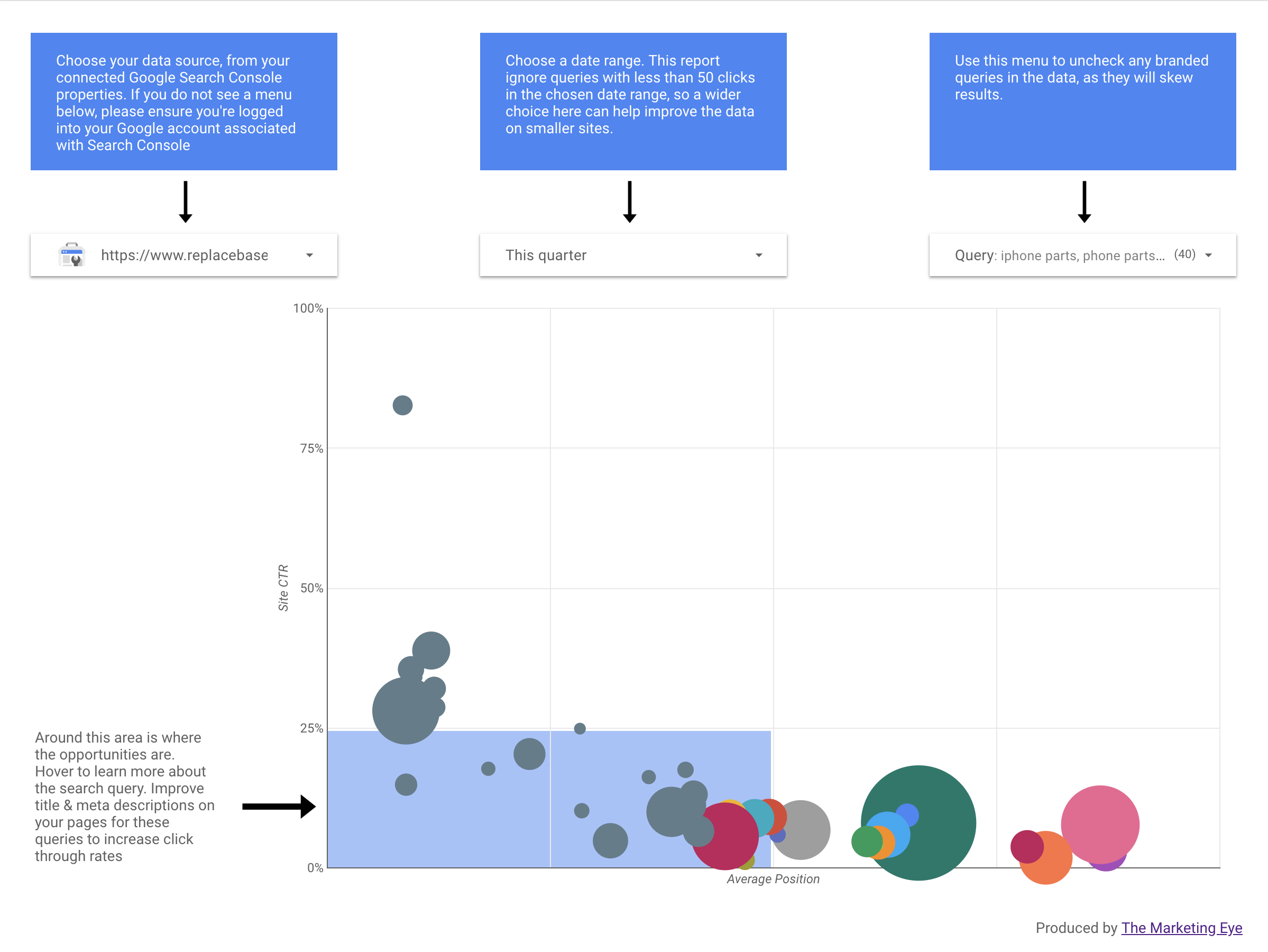 The steps to create and use this graph are:
Head to the Meta Description Opportunities Finder
Select your website property from Google Search Console in the first drop down box

If you do not have your website set up in Google Search Console add it here using this tutorial
Uncheck any branded terms in the second drop down box, as these will skew the results and make the analysis more difficult
Adjust the date period in the final drop down box

Longer time periods can help give enough data to analyse
Shorter time periods can help to drill down to the best opportunities
I like to aim for around 5-10 bubbles within the blue shaded area
Hover over each of the bubbles in the blue shaded area. This will tell you which search phrase you're appearing for, as well as it's average position and click through rate
Search each of these terms, note the URL of the page which is ranking, and improve it's meta description. Improvements can include:

Matching the text more accurately to the intent of the searcher
Including a powerful call to action 
Including an intriguing description of your USP compared to pages ranking above you
You can also use this tool to check back on previous improvements. Use the query drop down to select a specific search term, and use the date range drop down to compare it's click through rate and average position before and after you implemented your changes.
If you have any questions, suggestions, or success stories about the tool, you should be able to find a live chat box on this page. If not, feel free to get in touch.