Google+ boasts an impressive 359 million monthly active users, surpassing Twitter and LinkedIn, and has a user base that is only slightly shy of Facebook.
Why?
Because Google+ has the added advantage of Google's SEO tools andpage ranking ability. As well as this, Google+ is a Google venture, meaning that your Google+ posts will immediately rank above posts from other social media platforms.
Over time, Google+ has grown to be more than simply SEO beneficial and just opening a Google+ account with a lacklustre profile and poor content will not win you any favours with Google's SEO algorithm and page ranking system. Google+ users have learnt that to get the best from Google they need to be engaging with the tools Google+ offers that promote interconnectivity.
The key to building an effective profile that will improve your page rankings is to frequently post unique content that is of a high quality. This content needs to promote, not just your business, but your personality. Let's take a look at fou of the UK's top Google+ pages, belonging to some well-known brands, to see how they are actively using Google+ to build up a profile that works to their advantage.
PwC
The vast, open layout from Google+ lends itself perfectly to capturing lots of visuals. This could be photographs, images, presentation slides, infographics or videos. The more visual impact your page has the better. Indexed Google+ posts with thumbnail images present a 40% higher click through rate than posts without them. If you don't have a product or service that lends itself to a plethora of photos and images, snapping photos of your team or examples of your work are a great alternative.
PwC has taken full advantage of the space Google+ offers and regularly posts interesting infographics and videos on topics such as wealth management, tax advice and monetary trends. PwC proves that professional services businesses can use Google+ just as effectively as other industry sectors, and that its client base is ready and eager to engage with them.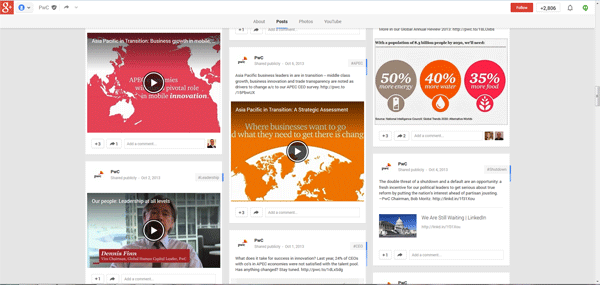 Virgin
Now more than ever, people are investing in the culture of businesses, and social media is as much about your company culture as it is your products. Take a look at Virgin, for instance.
Virgin follows the 20/80 rule very well. That is, 20% of their content is product related, the other 80% relates to their business culture, whether it be about Richard Branson himself, pop culture or customer engagement. It makes for a very rich and interesting page.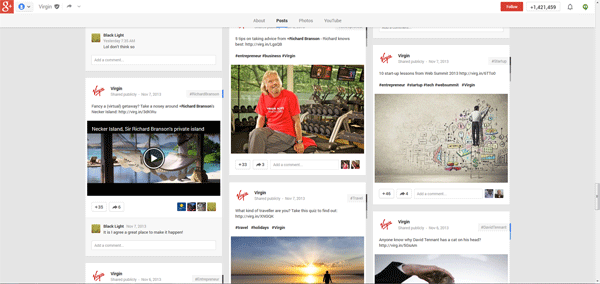 Penguin Books
It is often tempting to fill your social media platforms with the same material. However, this discourages your audience from actively following your business across all your platforms. Frequent, unique content creates a vibrant and varied profile that people are likely to want to follow.
Penguin posts twice a week with content that inspires, educates and promotes reading and literature. Recent posts have included, 'If Penguin made t-shirts,' 'Penguin-inspired nail art' and 'On this day in 1862' – a post about George Eliot's 'Middlemarch.'
Creativity is part of the fun when it comes to building a strong social media presence and Google+ is the perfect platform to expand your company's creative talents. Penguin is a great example of how imaginative your Google+ posts can be.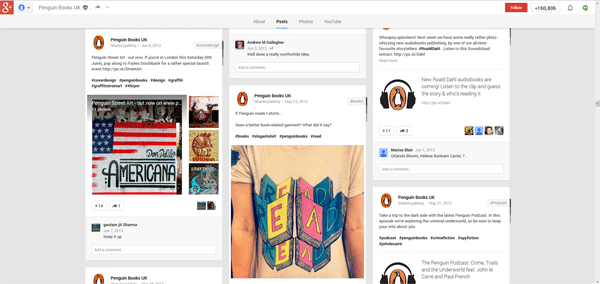 Cadbury's
A unique feature of Google+ is the crossover between text-based media and human media - a whole blog post within itself! Cadbury has really embraced the Google Hangouts tool to invite followers to join live baking demonstrations with famous chefs. What better way to promote a product than a live demonstration from a famous chef?
Hangouts and live videos are a direct way of engaging and communicating with your consumer taking your customer relations to the next level.
As Cadbury's proves, Hangouts are a great tool for B2C marketing, but they can be even more effective for B2B relations. Not just for demonstrations, Hangouts can be used for a whole host of online events in the business arena, from live feedback sessions, webinars, virtual trade shows, interviews, and panel discussions. Google+ provides a platform for strong national, as well as local, business communities - an aspect of the medium that this is growing in the UK. Virtual engagement through Hangouts in your local area is a great way to use Google+ to grow your business connections and conversions.
The Hangout tool is a key differentiator between Google+ and its social media cousins. As Cadbury's has shown, this is a great marketing device that shouldn't be ignored.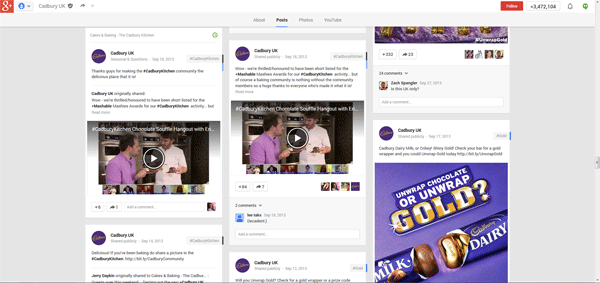 Google+ offers some unique and valuable tools that can help you build a strong relationship with your customers or clients. These four UK companies have embraced all that Google+ has to offer and are really good examples of how Google+ can help to grow your business.
LinkedIn