Facebook has introduced a new look for company business pages, which it describes as being more "streamlined".
The update is designed to make it easier for people to find the information they want and help page admins find the tools they use the most.
Sounds good. But what's actually changed?
Analytics

The first thing you will see when logged in as an admin is the 'Page Manager' admin tools have gone. Actually, they haven't, they've just moved. However, at first glance, you could be mistaken for thinking so. The large management panel that used to provide an in-depth overview of post details, page activity and personal messages has been replaced by a simplified tab with activity, insights and settings neatly arranged along the top.
This certainly cleans up the page but will require you to actively click on each button to view the analytics results. The benefit, however, is once you do click through, the analytics section has been refined and is more insightful and clearly laid out.
A nice and simple add-on on the right hand side is the "This Week" bar which gives you a quick snapshot of your activities results. It's a nice snapshot, because it arguably displays your most important information e.g. 'is what I'm doing having an impact?' If you roll-over the icons you will receive a detailed breakdown of each of your posts and what content you're putting out there is making a difference.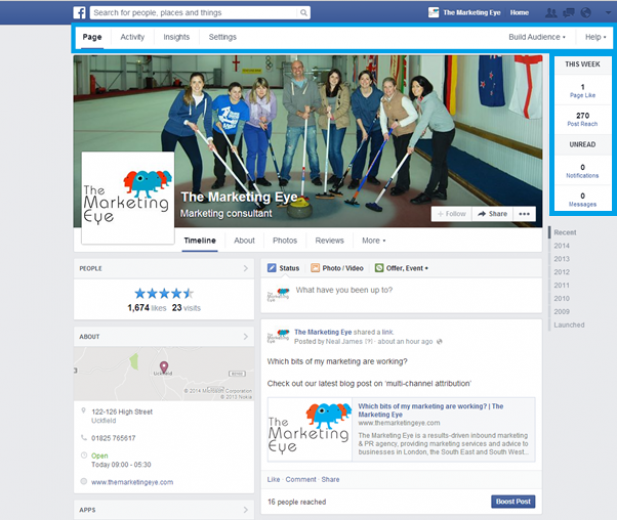 Timeline
One of the most distinctive yet subtle changes to business pages is to the timeline. Before the timeline was spread across two columns. Now these two columns still exist, but the content displayed, has changed. Instead of your posts being displayed across both panels, they're now only shown down the right hand column. The benefit of posts appearing on one column is twofold. Firstly, it stops your user's eyeballs being dragged all over the scene by the often incoherent two column structure. Secondly, and most importantly, the return of one column focuses attention back on your content, which is what it's all about.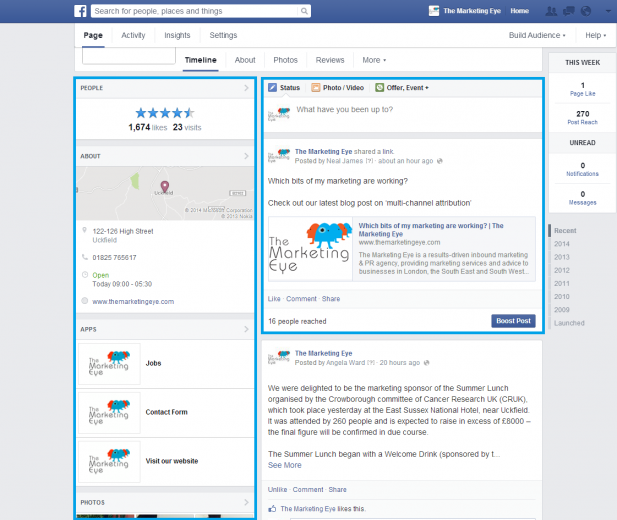 The left hand column is all about showcasing general information about your business. This includes an about section which will incorporate location, contact details etc. Your photos and apps will also appear here and has helped make the page easier on the eye. The additional and necessary benefit is that it will aid mobile optimisation.  However, fundamentally it's not about the left-hand column. These updates are about content. Content is what will benefit your business.
What else should you look out for?
Are you interested in what other businesses are doing and how they compare to yours? The 'Pages to Watch' is a new Page Insights feature and will allow you to create a list of businesses you're interested in and track their performance. You'll get to see other companies 'page likes' and how much engagement their content is driving. Useful tool.
It's becoming clearer and clearer that the focus is relentlessly on content. Google has already made this clear and now Facebook has too.
Interesting and engaging content is the way to win on Facebook.
This could make it difficult for businesses who don't have the time to invest in generating this type of content. However, it is this type of content that drives engagement, website traffic and new business.