I never cease to be amazed when I see the raison d'etre of alternative finance businesses stated as being that banks don't lend to small businesses.
Granted, monthly gross lending to SMEs hit a low of £2.78bn in November 2012.
But that was then.
Since November 2012, gross lending by the banks has steadily increased and now stands at £4.6bn per month, at times exceeding £5bn.
Monthly gross lending to SMEs (£m), seasonally adjusted.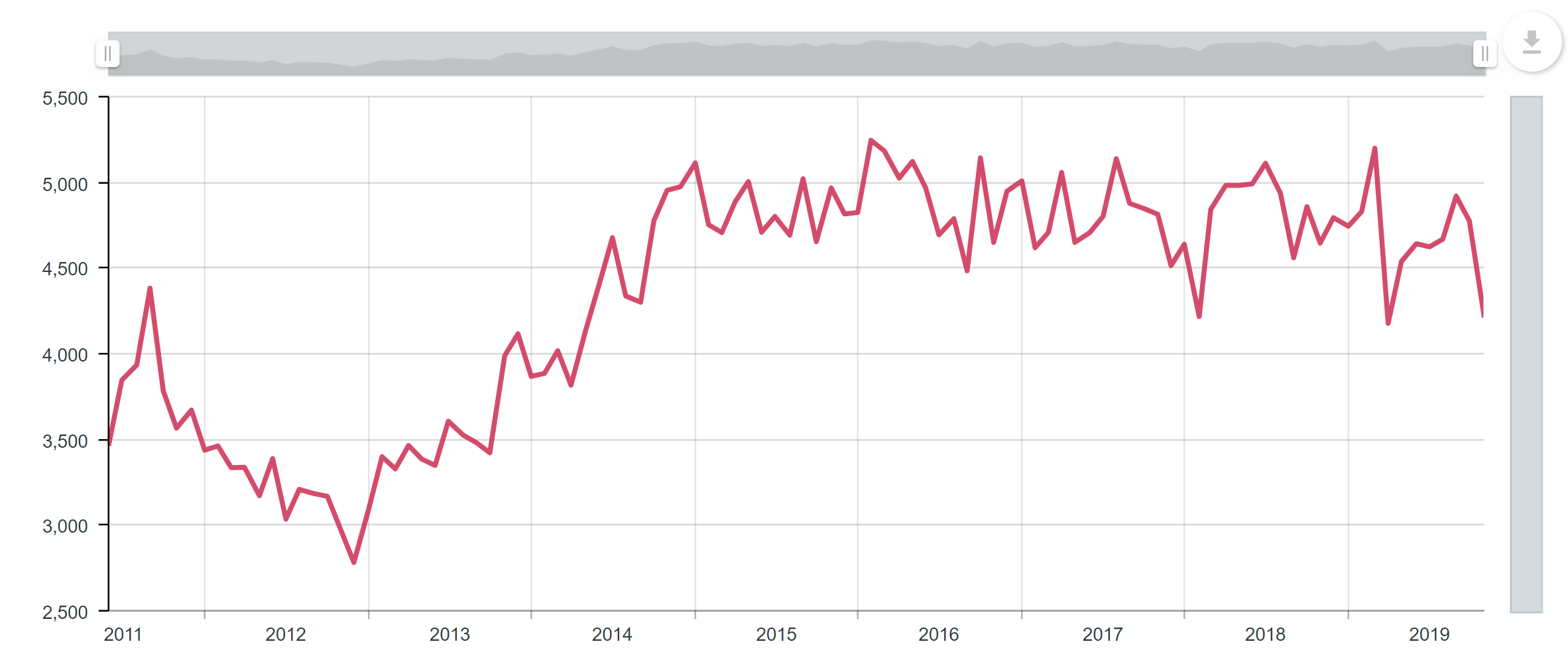 The quality of lending has improved too.
Write-offs have decreased from a high of almost £3bn a quarter (yes, a quarter) to under £300m now. (NB. This is for businesses of all sizes).
Or, put another way, from 0.5% to 0.05% of outstanding balances. These are figures that many alternative lenders would be proud of.
Time to change the record
Lending volumes getting back to pre-crisis levels might not be anything to write home about, but the stats show that whatever happened in the past has now changed. Many small businesses are now having their borrowing needs met by their mainstream bank.
And pretty quickly too.
Another favoured mantra is that the banks take an age to make a decision and then say "no".
The improving default stats show there is nothing wrong in taking time to come to the right decision and, in truth, many of the alternative lenders are no quicker or more likely to say "yes" than their bank counterparts. "We decline 90%+ of the propositions we see" is worn as a badge of honour by many platforms, when, in reality, all it says is the wrong sort of business is being attracted in the first place.
Switching up the value proposition
If alternative finance platforms are to grow profitably and fill their books with good quality lending, they need to re-think their value propositions and give small business owners a real reason to choose them.
Value propositions are either pain relievers or gain creators. To date, the focus has been on relieving the pain of borrowing money. As the pain dissipates, more attention must be paid to the gain. For example:
| Old - pain relief | New - gain creation |
| --- | --- |
| We lend because your bank won't | We help you borrow smart with products better suited to your needs |
| Applying for a bank loan is cumbersome and long-winded | We've streamlined our application process to make you more productive |
| We make decisions faster than your bank can say no | We make considered decisions that are right for you and right for us |
| Your bank doesn't understand small business | We make running your small business easier |

Delivering on new value propositions requires creativity and investment.
To come up with a finance product that is genuinely different is difficult. Of the big three alternative business lenders, Funding Circle and RateSetter used their newness and first-mover advantage to achieve scale with what is a straightforward business loan. MarketFinance, formerly MarketInvoice, led with selective invoice finance before introducing more traditional whole of book invoice discounting and, very recently, loans. Interestingly, none of these businesses are profitable yet.
If your product is essentially the same, you have to focus on the process and the service.
Esme has recently rocketed to £100m of lending by focusing on a frictionless application process and speed of decision. Iwoca too, which is profitable, leads on a five-minute application. Both businesses have invested heavily in their systems to do this. LendInvest, another of the very small handful of profitable fintechs, has remained true to its niche and followed many of the gain creation principles in its positioning.
Areas that remain unexplored are cost reduction - capital is expensive - and adding value to customers beyond the cash, for example, by creating communities.
As the alternative finance industry enters its second stage of maturity, with new entrants slowing and some of the early players not making the course, the value proposition must evolve if the competitive landscape for business borrowing is to remain rich and varied.
In finance, you don't necessarily have to be different to survive, but you do have to do at least one thing better.