Microsoft recently released an update to Outlook, called Focused Inbox, with the aim of helping users focus on their most important emails.
If you've updated your Outlook, you'll see two new tabs at the top of your inbox called Focused and Other.
Emails under the Focused tab are the recipient's most important messages, including emails from clients and colleagues, and will be the first thing they see when they open their Outlook in the morning. The rest of their emails will go into Other. These emails will include marketing, promotional and sales messages.
With Focused Inbox, recipients will only get a notification or a pop-up message from emails in the Focused tab, unless they change their settings to receive notifications from both. You might be starting to think how can Focused Inbox be great news for email marketers. After all, recipients aren't being notified of your emails and your emails are located under a tab that they won't see unless they pro-actively/remember to check.
Here's why it's great news…
No more Clutter
The Focused Inbox update does away with the Clutter folder. Emails that previously went into Clutter, now go to Other. Although not all marketing emails went straight to Clutter, the likelihood is that a large proportion of them probably ended up there. ISPs are clever, and if they saw what looked to be marketing or promotional emails, they would push them into Clutter. The issue for email marketers is that emails in Clutter were less likely to be read, which meant the value of email as a marketing channel decreased.
Other is the same as Clutter
I know what you're thinking, but hear me out.
The emails going into Other are the exact same emails that went into Clutter. Outlook is treating those emails exactly the same. However, the difference lies in where the Other tab (tab being the keyword) is located. Other is located in the Inbox folder, whereas Clutter is a folder located on the left-hand side of your screen along with the rest of your recipients' folders, often at the bottom.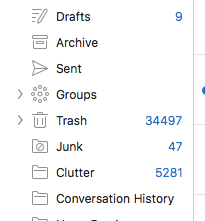 Ask yourself this: When do you ever check a folder for incoming emails apart from your inbox?
I'm guessing the answer is rarely to never, and that was the problem with the Clutter folder. Nobody ever checked it.
Other, on the other hand (pun intended), is a tab, not a folder, and it's located inside your Inbox folder, the only folder you check for incoming emails.
Here's how it looks when you open your inbox:

Although recipients won't get an alert for an incoming email that goes into Other, they will be informed that an email is in Other, via a message that appears at the top of the Focused tab. Therefore, the likelihood of a recipient opening or at least acknowledging that your email exists increases significantly.
Before updating my Outlook, I had 5281 unread emails in my Clutter folder. In the two days since updating to Focused Inbox, I've opened, or at the very least deleted and therefore acknowledged its existence, every single email that has come into Other.
Furthermore, recipients can move emails from Other into Focused, so if you're sending engaging and value-adding content to your recipients, they'll move your emails into their Focused tab. Once they've moved your emails to Focused, they'll receive a notification for all of your future correspondence!
If you have any questions about Focused Inbox, feel free to engage us on Twitter @themarketingeye.
If you are looking to take your email marketing to the next level, feel free to get in touch and speak to one of our email marketing experts.